A 30-feet yacht surprised visitors at the Boot 2016 in Düsseldorf: The L30, developed by former Olympic sailor and Volvo Ocean Race participant Rodion Luka, designed by Andrej Justin and built by OCEAN TEC in Slovenia. NauticExpo talked to Rodion Luka about the eye-catching cruiser-racer, whose first sea trials revealed top speeds of over 20 knots.
NauticExpo e-magazine: You sailed almost any boat, from 49er to VO70. Why did you develop this sailing yacht?
Rodion Luka: I never thought to be involved in boat building. It started when I was looking for boats to replace our fleet of Platu 25 at the Kiev Yacht Club. We use them for corporate events, which is the best way to develop our sport, as many business people who get in touch with sailing join our sailing school afterwards.
Therefore we need a fleet of equal boats. They should be fast, modern and easy to maintain. I just didn't find the perfect club level boat for this purpose.
I just didn't find the perfect club level boat for this purpose.
NauticExpo e-magazine: Which features, that you finally included in the L30, where most important to you?
Rodion Luka: We have a cabin with a shower, because beginners and especially ladies like it. To have headroom of 1.75 meters, the deck bends to the bow and to the stern, that looks distinctive. Due to the lifting keel the boat can be trailered and doesn't require a crane.
It has a huge cockpit with double steering wheels. For beginners, they are easier than a tiller and people love taking pictures of themselves at the helm.
We decided for an Oceanvolt electrical engine as standard in the racing version in order to keep long term costs down. The L30 is designed as a safe club boat. But because I'm crazy about speed, it won't be slower than any racing boat.
NauticExpo e-magazine: How does your club concept work?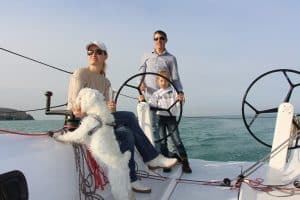 Rodion Luka: We'll try to make a bareboat fleet around the world for racing and cruising in boats that people already know from their home club. It's similar to a fitness club concept.
The L30 is a one design that can basically be built all over the world. We are already looking for partners in the United States and Asia.
NauticExpo e-magazine: What are the next steps?
Rodion Luka: We want to show up with the boat in a couple of big events: Cowes Week, Southampton Boat Show, maybe Kiel Week and Genoa Boat Show.
Production started end of March, we have a couple of orders and are looking for further distributors. Test sailing starts soon and we hope to be nominated as

yacht of the year.