The unmanned or autonomous ship is becoming more of a reality for the future.
U.K.-based designer and builder of autonomous surface vessels, ASV recently showcased its latest autonomous vessel on the market, the C-Worker 5. The company was started by managing director Dan Hook who had a passion for unmanned technology and saw that this technology had the potential to improve the way the industry worked at sea, for the better.
5 Days Before Refueling
The 5m-long vessel is capable of operating at 7 knots for five days before having to refuel. Designed to work as an autonomous surface vessel and as a force multiplier, it can also operate alongside traditional survey vessels to increase survey efficiency.
The C-Worker 5 has recently been involved with hydrographic surveying alongside a company called TerraSond in July. Sarah Dyer, sales and marketing coordinator explains: "TerraSond are using our C-Worker 5 as a force multiplier.
What this means is that they are running their normal survey vessel, but then also running the C-Worker 5 alongside it. This doubles the survey coverage because you have two vessels running instead of just one. The two vessels are running parallel lines. The C-Worker 5 is being controlled from the main survey vessel."
The development of this technology show automation is being used in the industry, while the plausibility of this technology being utilized for larger vessels still remains a question for the future.
A Maritime Autonomous System Code of Conduct
Dyer explains the challenges developing and working with unmanned vessels: "The regulations around the use of unmanned vessels can be seen as a challenge, however, there is a lot of work being done in this area. In March this year the MIA (U.K. Marine Industries Alliance) launched the Maritime Autonomous Systems Code of Conduct. A guide endorsed by industry, on how operations should be conducted at sea."
ASV adds that there are a variety of operations that are undertaken (or can be undertaken) by an unmanned boat. On the military side, these can include, but are not limited to, mine sweeping, mine hunting, mine disposal, port and harbor security and surveillance.
On the commercial side, these can include subsea positioning, hydrographic survey, oceanographic/scientific data collection, and subsea asset inspection.
C-Worker 6 then 7
Further developments in the C-Worker range saw the launch of the C-Worker 6, a multi-role work class ASV suitable for a variety of offshore and coastal tasks, in 2014. The company says that the vessel can be used to complete tasks such as subsea positioning, surveying and environmental monitoring without the need of a ship on station or seabed anchoring.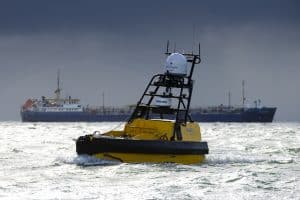 The C-Worker 6 can integrate a variety of payloads including multi-beam, USBL, CTD and ADCP via exchangeable payload frames, which the company highlights as being unique to the C-Worker 6. In addition, there is a further C-Worker, C-Worker 7, which is currently in production for two vessels to be made. These will be the largest in the range.
Still a New Concept
Autonomous vessels are still a relatively new concept to the maritime industry. Dyer comments about future developments: "Autonomous vehicles available in today's market place are generally not much larger than 15m in length. There is the potential in the future for much larger autonomous vessels.
Autonomous ships is a topic gaining much interest in the media right now. The control system we've developed at ASV can convert an existing manned boat into an unmanned boat.
This is something we have done for several customers including BAE Systems. With this technology available, there is most certainly the potential to convert much larger boats/ships into unmanned vessels."