Diesel outboard from Oxe and D-torque recently made a splash and have some impressive stats so we took them out on the water to see how they performed.
Commercial boating is all about costs so reducing them by cheaper running, long service intervals and above all, reliability are some of the reasons for the resurgence in diesel outboards. Market leader Mercury already has a diesel outboard in service so the others are playing catch up.
German company Neander Shark builds the D-Torque and has partnered with Yanmar while the Oxe is a Swedish design using a General Motors marinized engine. A third builder, Cox from England is also launching shortly. These are ideal for the heavy demand of pushing boatloads of guests to and fro all day due to plenty of low down torque, so ideal for a wide variety of grunt work and for more glamorous use such as superyacht tenders power.
We were able to use both 50 HP D-torque and the 200 HP Oxe. Noise levels on both were surprisingly quiet—a similar 200 HP Yamaha four stroke gives a higher pitched and more raucous sound than the Oxe, for instance. Acceleration was uninspiring on both but it has to be remembered that these are work horses rather than race horses.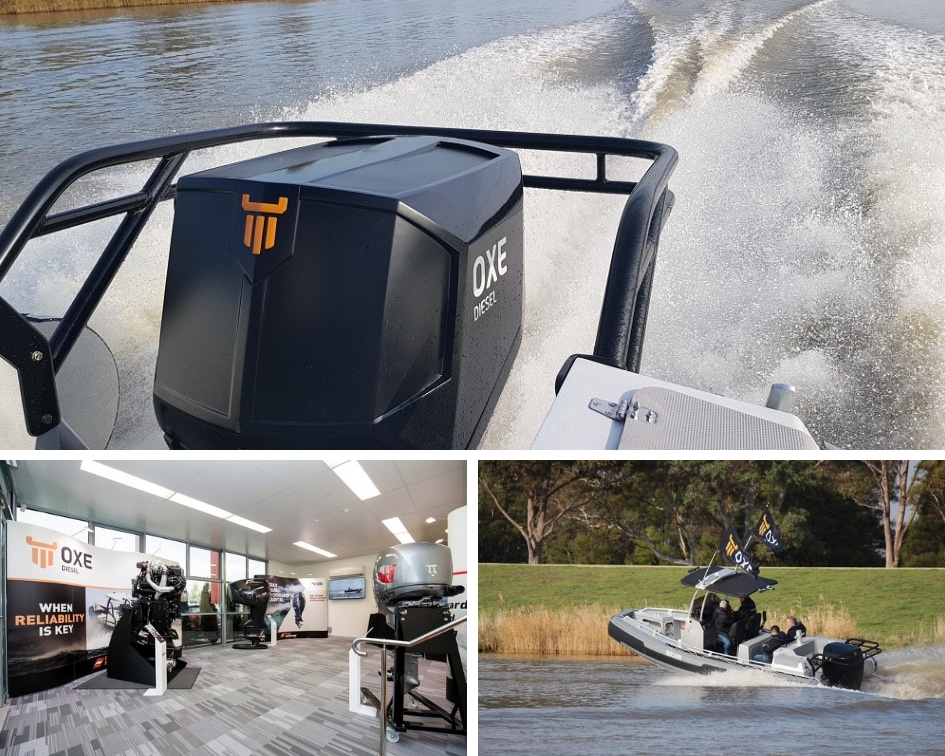 Physically both are big for their outputs but this has some advantages—all the service points on the belt driven Oxe are accessible from the cockpit and the D-torque has a slim leg due to innovative engineering. On the Oxe, another plus was the gearbox. We liked the quick shift transmission that allowed fast moves forward and reversing, so ideal for evasive action around ropes or those tedious jobs on fish farms.
We were able to use both 50 HP D-torque and the 200 HP Oxe. Noise levels on both were surprisingly quiet.
With a power head about the size of two cases of wine, the 200 HP Oxe diesel looked an impressive beast as it burbled quietly on the back of the Naid 6.7 m RIB. Our opinion didn't change as we cruised along the smooth lake, steadily accelerating to 21 knots cruising speed as the common-rail, turbo-charged four cylinders spun at 3,500 RPM and the consumption showed 31.6 liters per hour. Pushing on to a top speed of 28 knots consumed 43 l/ph.
The smaller D-torque lived up to its name with no slowing into turns for our Brig 520 RIB as its torquey twin cylinder motor smoothly pushed us to 21 knots while consuming 11.9 liters per hour. This frugality combined with long service intervals (200 hours) and a 10,000-hour lifespan is intended to offset the relatively high initial costs (approximately 44,000 euro for the Oxe and 36,000 euro for the D-torque). Our host for the day, Australian distributor Power Equipment, will establish service centers according to demand for the Oxe and D-torque. "But we will encourage commercial operators to do their own servicing," said General Manager Luke Foster.     
Specifications
D-Torque 50HP (Yanmar distribution)
Price: 36,000 euro (approx)
Displacement: 804 CC
Cylinders: 2 inline
Weight: 175 kg
Intake: Turbo diesel
Torque: 111 nm (50HP)
Transmission: Mechanical
Alternator: 300 W
Dimensions: 20 or 25 inch shaft leg
OXE DIESEL (200HP)
Price: 44,000 euro
Displacement: 2.0 L automotive based motor
Weight: 350 kg
Intake: Turbo
Torque: 415 Nm at 2,500 RPM
Transmission: drive belts
Alternator: 130 amp
Dimensions: 25 inch leg model (994 X 1180 X 678 mm)