Called Vision of the Fjords and built by Brødrene AA under its Seasight branding, the carbon fiber, dual-fuel hybrid passenger ferry won the 2016 Ship of the Year award at SMM in Hamburg in September.
Now in operation on the west coast of Norway between Flåm, in the Aurland fjord, and Gudvangen, in the UNESCO World Heritage-listed Nærøy fjord, the 42-meter-long vessel is scheduled to make that 20nm journey around 700 times every year, carrying up to 399 passengers.
Owned and operated by The Fjords, Vision of the Fjords has a diesel-electric hybrid propulsion system based on a combination of two 749kW MAN main engines and two 150kW Oswald electric motors powered by lithium-ion batteries from ZEM. They are overseen by ABB's DC grid system, which manages and controls the power between the diesel engines, propeller and charging station.
From 19.5 Knots to Battery Power
That configuration is capable of delivering a maximum speed of 19.5 knots, then switching entirely to battery power and a leisurely eight knots to allow passengers to enjoy the beauty of the Nærøy fjord in comparative silence.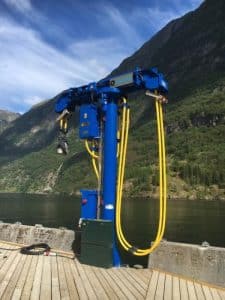 The batteries can be charged by the diesel engines and/or by two onshore Cavotec-designed and manufactured low-voltage power dispensers located in Flåm and Gudvangen. Project suppliers also included Mancraft, Simrad and Naviguiding, among others.
The vessel's carbon fiber composite construction gives it the low weight essential to reduce energy consumption and cut both the power and battery capacities, while the catamaran design reduces waves and wash.
Zigzagging Lines
With lines inspired by the famous Trollstigen zigzagging mountain path, Vision of the Fjords gives passengers who prefer to view the outside from inside the freedom to walk around its twin decks and enjoy the scenery through panoramic windows.
The Fjords CEO Rolf Sandvik noted: "The vessel's design was painstakingly selected to set new, sustainable environmental standards for the pristine habitat in which it operates. Apart from the dual-fuel solution, we also challenged the yard to create a special hull to minimize wake and thus reduce erosion on the vulnerable shorelines of the narrow fjords.
Putting Nature First
"Currently, most fjord tourist vessels, including some of our own, are old and environmentally unfriendly," Sanvik continued. "We have a vision to do things differently, putting nature first and pioneering tourist operations that delight customers while preserving habitats.