"Autorouting does not replace safe navigation." Navionics offers this timely warning regarding its Dock-to-dock Autorouting because this new boating navigation software promises to be so comprehensive that it could entice seafarers to forget basic precautions.
The user just needs to tap a destination or enter a lat/long for the application to calculate the most appropriate route. Shallow waters, narrow passages, buoys, speed warnings and bridges—almost everything is taken into account, including user inputs such as draft and mast height. The software also estimates fuel consumption and distance.
Marine and Shoreside Points of Interest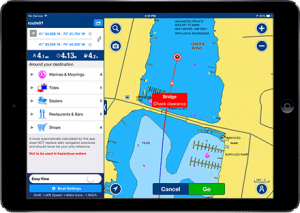 What's more, Dock-to-dock Autorouting is also able to provide practical information on the destination. This includes not only the obvious marinas, moorings and fuel docks, but also shoreside services such as taxis, restaurants and bars.
Because many of these details are subject to change, Navionics promises continuous updates of its charts. For example, last year the company updated its Western European charts more than 16,000 times. But users also will be able to input data on such things as new buoys, unidentified rocks or good restaurants.
Dock-to-dock Autorouting is currently available only on iOS. It should be available this spring on some Raymarine multifunction displays and this summer on Android smartphones and tablets.