Convenience is king in many aspects of the modern world, so why should power boating be any different? NauticExpo e-magazine talked to global builders, designers and engine manufacturers to find out more about the latest trends in the motor boat sector.
Simply turn the key and go, preferably when the weather is nice. As time is typically short the boater will usually just spend the day aboard. This means that most leisure time is spent topside, rather than below deck. Versatility is now a big factor, so the 25-foot day boat can also be a sports cruiser for pulling skiers or chase game fish. Marina berths are pricey for the smaller end of the market so dry-stacking is an increasing option and that in turn may dictate the engine style for a particular boat.
Our service economies mean that boaters generally don't mind paying for this convenience but not too often, so engine service intervals should be long and just like for cars, smart gadgets are wanted aboard. Joystick control of in-board and even outboard engines are becoming mainstream thanks to prolific products like Volvo's IPS Pod drives. The shapes of the boats themselves are changing, in key segments such as the mid-range size where a 35-foot power catamaran offers as much space as a 50-foot monohull.
Smarter Design
No matter where—the ocean, inland waterways or coastal cruising—an efficient hull requires less energy to push it so this is the holy grail for designers. Given that the majority of motor boats use planning or semi-displacement hulls, this is a significant area of development. Reflecting this, major builders such as Beneteau and Jeanneau have evolved the principle of the stepped-hull to create more efficient planning boats and have included this feature in several of their mid-range powerboats.
Merry De La Poeze, Jeanneau powerboat marketing director, said:
Every boat requires its own particular hull, therefore the best combination between comfort and energy saving; so for example there is a stepped hull for the Cap Camarat 10.5 WA and a traditional semi-displacement hull designed for the Volvo IPS powered Prestige 590.
Given that motor boats are built around their power sources, it follows that diminishing fossil fuels dictate new trends. Tess Smallridge, Torqeedo marketing manager, explained:
A light, modern, green design is perfect for electric propulsion and causes fewer emissions and less pollution than if powered by fossil fuels.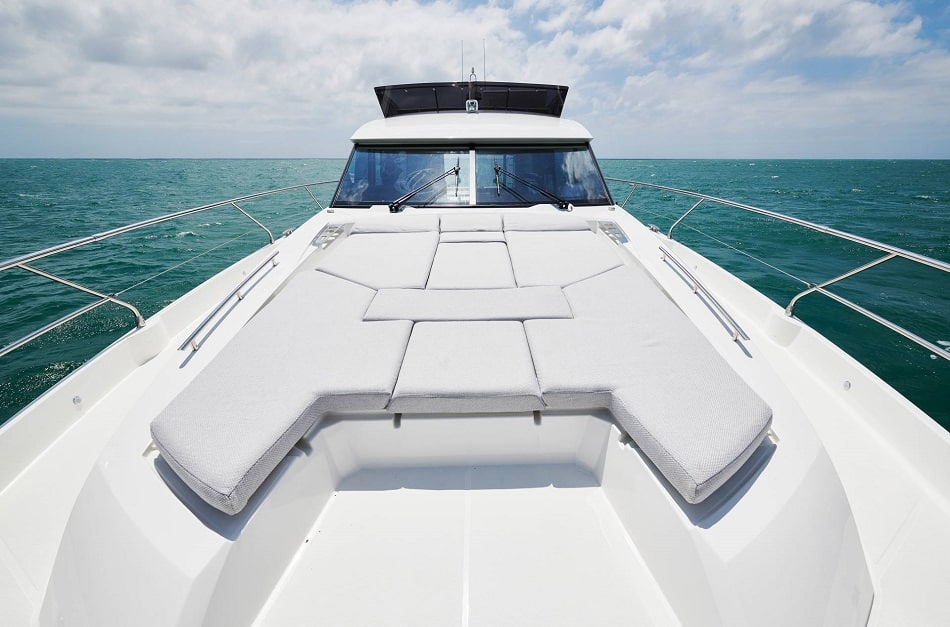 Last year Torqeedo was bought-out by traditional engine maker Deutz. However, contrasting with the green trend, the average buyer wants his McDonald's experience of upsizing and in fact more of everything. Chris Critchett, naval architect at Michael Peters Yacht Design, said:
Economizing on size, power, or options does not seem to be in vogue except within a few niche markets.
This is echoed by Jeanneau's De La Poeze:
The demand is getting higher and higher for equipment that increases comfort or facilitates navigation so includes stabilizer, joystick, modular cockpits and water access etc.
Boat Tech
Recently we spent a day doing sea trials of Raymarine's integrated drone system which company engineer Tom Green said reflected the user demands for new onboard experiences. Apart from giving the boat an "eye in the sky" to see further, it also could record trophy moments, like landing a game fish.
Elsewhere, overcoming seasickness is being tackled by more compact stabilizer systems now fitted to smaller vessels. Berthing is another drama to be reduced with automatic docking systems that Volvo and American giant Brunswick are working on. Brunswick also owns leading outboard marque Mercury which is keen to capitalize on the market trend away from inboard engines. So this has prompted the creation of features such as Active Trim for efficient outboard leg angles, and in slow handling, GPS-enabled features like Skyhook.
Future boats may look like the new 36-foot Greenline NEO just penned by the prolific J&J Design from Slovenia that will make its UK debut at Southampton. It can have electric outboard power and three different deck layouts. "There will be many more purpose-built electric boats but you'll also see established brands offering electric or hybrid options on existing models," said Torqeedo's Tess Smallridge.
Michael Peters Yacht Design told us they are also watching the innovations in sailboats. "Given what's going on in the sailing world, it's tempting to point to hydrofoil technology as the next best thing for powerboats, but that was probably true 50 years ago as well," cautioned Naval Architect Chris Critchett.
Read more about motor boats on NauticExpo website.